5. Donald Trump Toilet Seat
---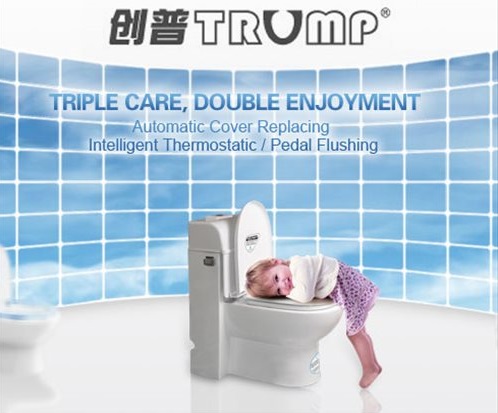 If Donald Trump doesn't secure a seat in the White House, at least there will be a seat for him in the bathroom. A bathroom fixture company in Shenzhen South China, known as Shenzhen Trump Industries, have actually created a Trump toilet seat, however, not just any old toilet seat but a luxury one with self-changing seat protectors available in both green and blue. The company has no affiliation with Trump but continues to produce Trump toilet seats as well as other bathroom fixtures for venues such as spas and hotels. If you think a Trump toilet seat is bizarre, you can even purchase some Donald Trump toilet paper, which is an actual thing! There are companies out there which sell toilet roll with Donald Trump's face printed on each sheet. You can let Donald's smug face kiss your ass or maybe even use it for some other purpose but one thing is clear, it is the perfect way to show Donald how you really feel about him.
4. Donald Trump Cat Scratching Post
---
If you are not too much of a fan of Donald Trump yourself then you can even let your pet cat share your hate with a Donald Trump Cat Scratching Post. A Canadian company who design these products have a Kickstarter campaign named "Politikats" and create politically inclined cat scratching posts not just focussed on Donald Trump but on other presidential candidates too including Vladimir Putin. According to Politikat's Facebook page the scratching posts are designed to "enhance the beauty of your home". Sure your cat might not be interested in political affairs but I assure you that your cat will be interested in scratching things.
3. Donald Trump Butt Plug
---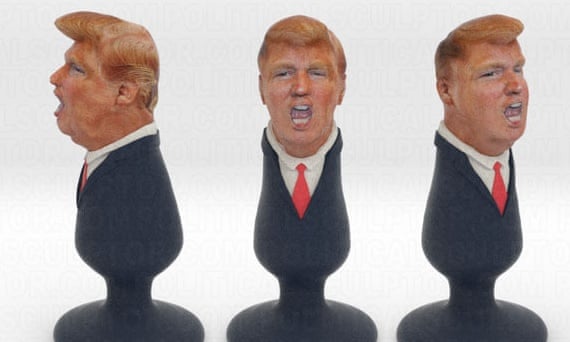 If you are very much a huge supporter of Trump, then you maybe you can show your affection with this Donald Trump Butt Plug and get some pleasure in the process. However, for the creator of this product it was designed as an insult towards Trump after Trump's remarks towards Mexicans and Latinos. Mexican born artist, Fernando Sosa was angry and insulted at Trump's immigration rhetoric directed at Mexicans saying that, "Mexico is sending 'rapists' and drug dealers to the United States". In the product listing, Sosa explained that, "I usually make Butt plugs to insult dictators, homophobes, and politicians. However, when I heard Donald Trump's remarks about Mexicans and Latinos from South America I was extremely angry." The Butt plug is created using 3D printing technology, made from full-colour sandstone promising "a course finish and a delicate feel."
2. Donald Trump Hair Slippers
---
Although not intended to be a Donald Trump-inspired product, you can't deny that it bears an uncanny resemblance to Donald Trump's golden hair. Referred by the public as Trump's hair, these "Princetown" Goat-Hair Mule slippers were actually made by the luxury fashion company, Gucci and cost a staggering $1800! These luxury slippers were hailed as a "bold new trend", however, I am not quite so sure about that… You are pretty much walking with Donald Trump's hair on your feet. Although highly expensive, the company does offer free shipping which I guess is a bonus.
1. Donald Trump Piñata
---
If you are of Mexican or Latino origin then this is the perfect way to release your anger and hit back at Donald Trump literally for his comments about Mexicans and Latinos. The piñata was designed by piñata maker, Dalton Ramirez, who was outraged by Trump's remarks about immigrants. Retailing for around $40, the piñatas were a hit in in Mexico and parts of the US and sellers are having trouble keeping up with demand. Even a shop in Portland, Oregon invited a group of people, mostly children, to destroy a human-sized Trump piñata at their grand opening. The children and adults, predominantly Latinos, took it in turns beating the Trump piñata with a baseball bat. If you have great disdain for Trump then this may be a worthy investment for you to let off some steam and relieve some stress.