5. The Miz vs John Cena
---
WrestleMania 27 was a night that The Miz will never forget! He got to main event the show as WWE Champion and defeat his opponent John Cena (which is not an easy thing to do by the way) albeit with a little help from the most electrifying man in sports entertainment!
His rivalry with John Cena leading up to WrestleMania 27 culminated back from when the two of them were tag team partners. However, The Miz would soon turn on John Cena after the pair lost their tag team titles to the Corre after they invoked their rematch clause immediately after losing them to The Miz and John Cena.
This meant that The Miz and John Cena had the shortest reign in tag team championship history at roughly 15 minutes.

4. Fandango vs Chris Jericho
---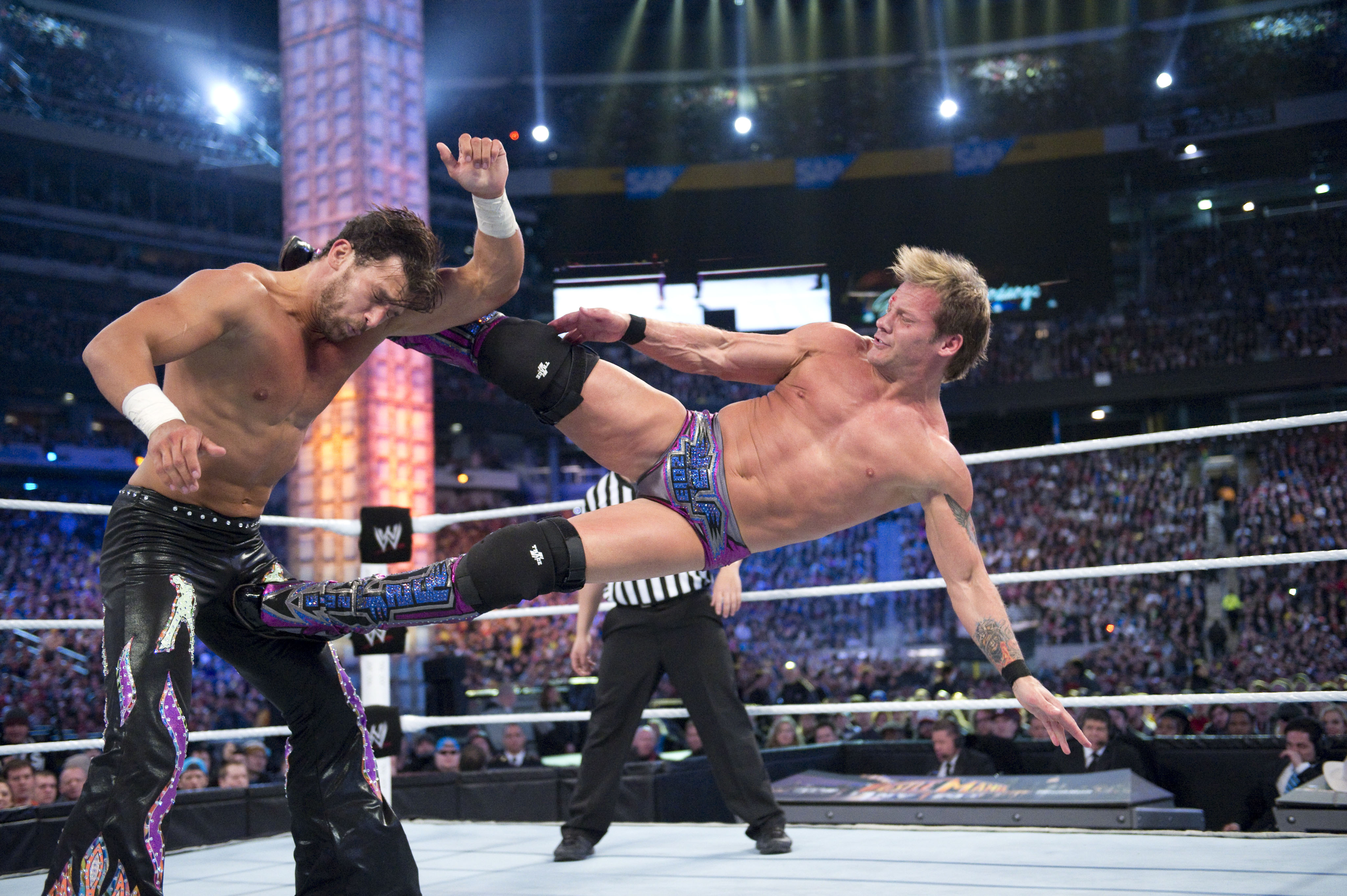 Losing to Fandango at WrestleMania 29 must have been one of Jericho's most embarrassing losses in his career.
The character Fandango first debuted on the March 1, 2013 episode of SmackDown as a seductive and flamboyant dancer after months of promotional videos of him moving seductively in a nightclub with a gorgeous woman.
However, Fandango never actually wrestled his first match until his WrestleMania 29 match against Chris Jericho due to the ring announcers and his opponents not pronouncing his name, "Fandango" to his satisfaction.
Jericho doing what Jericho does best, purposely butchering names, started a feud with Fandango after mispronouncing his name intentionally and repeatedly.
This set up a match between the two on the grandest stage of them all, WrestleMania and we got to see Fandango defeat Chris Jericho in his first match after rolling him up for the pin after Jericho went for his signature Walls of Jericho.
3. Owen Hart vs Bret Hart
---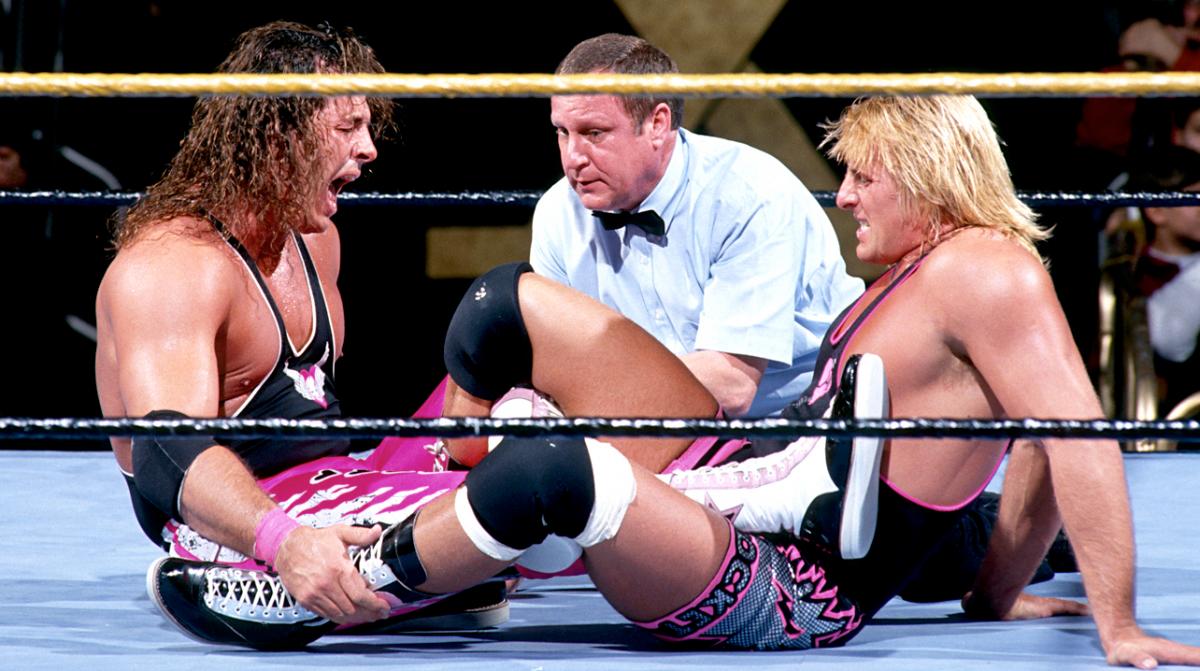 At WrestleMania 10, it was Brother vs Brother… Bret Hart vs Owen Hart… This iconic match is widely regarded as one of the best opening matches in WrestleMania history. It was a technical masterclass which showcased true wrestling talent within the Hart family legacy. But what was more surprising was the result of the match.
As we know, Bret Hart is the more popular and bigger star compared to his brother Owen so it was on this logic that many fans believed that Bret would be the one to pull off the victory but it was actually Owen who left WrestleMania 10 victorious.
The shocking upset came when Bret Hart's attempted victory roll was blocked by Owen Hart who reversed it by sitting on Bret's shoulders for a three count.
Bret's moment wasn't totally ruined on that night though because later in the evening, he would go on to win the WWF World Heavyweight Championship while his brother Owen stood by and watched in jealousy as Bret celebrated in the ring.
2. Rick Rude vs Ultimate Warrior
---
When you think of iconic heels throughout WWE history, "Ravishing" Rick Rude is definitely up there. His arrogant attitude and showboating before and after his matches would often spark outrage and hatred from the crowds.
So, when it was confirmed that Rick Rude would be taking on the WWF Intercontinental Champion at the time, The Ultimate Warrior at WrestleMania 5, many fans had their pick on The Ultimate Warrior retaining his title. Little did they know, Rick Rude would end up defeating The Ultimate Warrior and therefore winning the WWF Intercontinental Championship.
This result caused a great upset because it was the first time The Ultimate Warrior had actually lost via a pinfall victory. And to make the matter worse, it was done using a cheap roll-up pin thanks to the help of Rude's manager, Bobby Heenan.
1. Brock Lesnar Vs The Undertaker
---
When Brock Lesnar conquered The Undertaker's streak many fans looked in complete shock and disbelief. Just seeing the number go from 21-0 to 21-1 was just heart breaking to any WWE fan! All these lifelong memories and years of being undefeated at WrestleMania just taken by the hands of Brock Lesnar.
When Brock Lesnar delivered three F-5's and pinned The Undertaker for a three count, there was a moment of utter shock and confusion which could be heard throughout the entire arena as Lesnar's music did not hit for a few minutes.
In 2014, in an out of character interview on the Stone Cold Podcast, Vince McMahon revealed his decision to have Lesnar end the streak and that The Undertaker was initially shocked at the decision. He also stated that there were no other viable candidates for the role and that The Undertaker was willing to participate in Vince's decision as he wanted to give back to the business.