5. Lesbian Segment
---
A lesbian segment. Enough said really. Well if you didn't know, Stephanie McMahon was involved in a lesbian segment at the Unforgiven pay per view in 2002. Stephanie, who was the babyface General Manager of Smackdown at the time, was forced to partake in some HLA (Hot Lesbian Action) after Eric Bishoff, who was the heel General Manager of Raw, was victorious after his team (Three Minute Warning) beat Stephanie's team (Billy & Chuck). The Lesbians teased Stephanie by rubbing her body, but there wasn't anything too graphic. There wasn't even any kissing (which sucks I know). As a mother to 3 daughters, that's probably not something she'd want them to see I'm guessing.
4. Cena Slaps Stephanie's Ass
---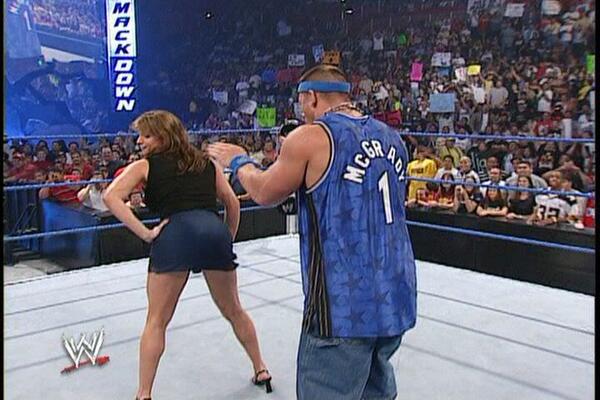 Back when John Cena was this cool, badass thuganomics character who didn't give a sh*t about what he said or did, he was involved in a non-PG segment with Stephanie McMahon which was hilarious to watch if I do say so myself. In this segment, Cena stared at Stephanie's breasts and tilted his head, saying: "Sorry I lost my concentration. I was looking at your targets." He also mentioned: "At Vengeance, hopefully I find out if the curtains match the carpets." If you didn't know, a woman's "carpet" is a sexual reference. Further into the segment, he also made a masturbation joke, saying: "There's something about you that makes me keep in touch with myself." Cena then went on to offer Stephanie $20 to rip off Sable's shirt, whom he referred to as a hoe. But the final question came in when Cena said to Stephanie: "Nobody's watching us Steph, why don't you let me smack dat… ass!" Stephanie replied to Cena's question by daring him to do it. And what do you know, Cena slaps Stephanie's ass. Lucky guy. Why can't we have this Cena back? Oh yeah, PG. That's why.
3. Crucified By The Undertaker
---
Stephanie's first big storyline in the WWE saw her work with The Undertaker. This controversial storyline involved The Undertaker abducting and then crucifying Stephanie on The Undertaker's wooden symbol (which looked like a cross) after being brought out by his henchman. The idea behind this was for Paul Bearer to marry of Stephanie in an "unholy wedding" to The Undertaker with Taker saying to Vince that he was not to blame for what was about to happen here. Bearer announced them as husband and wife in an "unholy union of darkness" although it was never official. But Stone Cold Steve Austin came to the rescue and beat up The Undertaker and his henchmen and freed Stephanie. It wasn't done because he was a friend of McMahon or anything like that. He just did it because it was right.
2. Incest Storyline
---
During Stephanie's pregnancy, Vince wanted to have an incest storyline with his own daughter. Thankfully this f*cked up storyline was turned down by Stephanie herself but I thought I'd still include it in the video as it was as storyline put forward by Mr McMahon himself. Vince revealed on his DVD that he had been trying to work an inappropriate incest storyline for years. He proposed an idea that he would be revealed as the father of Stephanie's unborn child in a storyline involving Triple H. However, Stephanie turned this down so the chairman proposed another idea of Shane being Stephanie's baby father instead. But again, Stephanie turned this down and rightfully so!
1. Randy Savage Incident
---
The Randy Savage incident is definitely something Stephanie and in fact, the whole of the WWE would want you to forget about. Although it's not 100% confirmed, rumours have led us to believe that Randy Savage slept with Stephanie McMahon when she was underage. What's even more mind-boggling is the fact that Savage would have been 25 years older than Stephanie. Savage indeed, ironically! If this rumour is true, that may explain the strong hatred Vince McMahon had towards Randy Savage and why he left the WWE in 1994. As Savage died in 2011, I guess we will never know if the rumour is true, unless of course Stephanie confirms or denies the rumour in her upcoming book, set to be released this year. But, maybe some things are just best kept secret.