5. Chris Jericho
---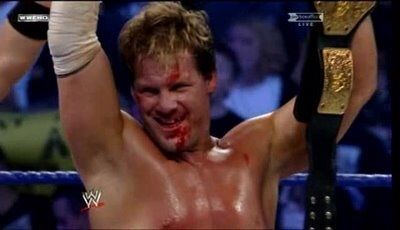 This one wasn't really a whole tooth being knocked out but instead, a large chunk of a tooth being broken. At No Mercy 2008, the then World Heavyweight Champion, Chris Jericho went up against "The Heartbreak Kid" Shawn Michaels in a ladder match for the World Heavyweight Championship. Early in the match, Jericho tasted his own blood following a nasty ladder spot in which Michaels smacked a ladder right in Jericho's face. The impact shattered most of Jericho's upper left tooth and blood could be seen gushing out of Y2J's mouth throughout the match. Despite this, the two went on to put on a tremendous match, which saw Jericho emerge victorious. Although Michaels lost the match, he did take a part of Jericho with him… the tooth of Jericho…well part of it anyway. I guess it was payback for Michaels for when Jericho gave Michaels' wife the gift of Jericho by full-on punching her in the face.
4. Natalya
---
At a WWE live event in Las Vegas, "The Queen of Harts", Natalya, teamed up with Carmella and Alexa Bliss to take on Becky Lynch and Nikki Bella in a 3-on-2 handicap match. However, during the match, she had her two front teeth knocked out. It is unclear how and when she had her teeth knocked out but like a true Hart, Natalya continued and finished the match. Natalya may have lost two teeth but she did not lose her smile as she took to Instagram posting this selfie along with the caption, "BRB….. Just grabbing two new front teeth! ………. All in a day's work!" After having emergency dental work, Natalya posted another selfie of her new front teeth. I'm surprised the WWE didn't make some ridiculous storyline out of this like they did with Nattie Neidfart.
3. Jeff Hardy
---
Jeff Hardy is known for his death-defying leaps and has taken many painful shots and bumps throughout his 20+ year wrestling career including one that happened at Payback 2017. Jeff Hardy may have successfully defended the RAW tag team championships with his brother Matt, however, this came at a cost; the cost of a tooth. At one point in the match, Sheamus performed a vicious, stiff kick to the face of Jeff Hardy, knocking out his pearly white, which could be seen flying out of his mouth. With a tooth missing, it's safe to say that Jeff Hardy was quite literally "broken" on that day. Following the match, Hardy received medical attention and his missing tooth was recovered.
2. Mick Foley
---
Back in the Atti-tooth Era… Attitude Era, Mick Foley, who was Mankind back then, faced The Undertaker in an unforgettable Hell in a Cell match at King of the Ring 1998. Less than two minutes into the match, The Undertaker threw Foley off the top of the 16-foot cell straight through the Spanish announcers' table causing announcer Jim Ross to famously utter, "Good God almighty! Good God almighty! That killed him! As God as my witness, he is broken in half!" A few minutes later in the match, another memorable moment came when The Undertaker chokeslammed Foley through the top of the cell, which legitimately knocked him unconscious. Foley's tooth was knocked out in the impact when a chair that followed behind him smacked him right in the face as he crashed hard onto the mat. However, that didn't stop him from finishing the match and he even gave a bloody smile to the camera, ignoring the fact that his own tooth was lodged in his nose. You just have to respect the guy; he was concussed, he dislocated his shoulder, he dislocated his jaw, bruised his ribs and suffered internal bleeding yet he wouldn't stay down. It took a chokeslam on a pile of thumbtacks followed by a tombstone piledriver to eventually put Foley down. They don't call him "The Hardcore Legend" for nothing.
1. Cesaro
---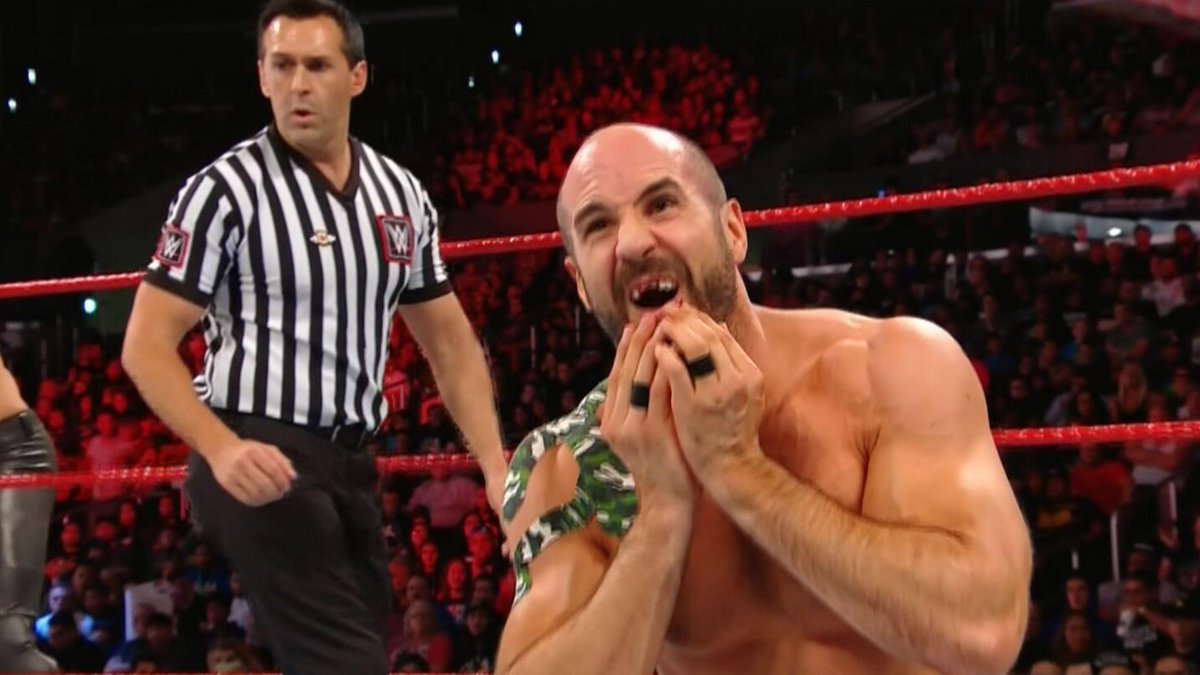 This was a more recent incident that occurred at No Mercy 2017. The team of Cesaro and Sheamus took on two thirds of The Shield: Seth Rollins and Dean Ambrose for their RAW tag team titles, however, near mid-way through the match, Cesaro became "Thetharo" or Bushwhacker Luke after "The Lunatic Fringe" Dean Ambrose performed a slingshot, sending him face-first in the corner of the ring post. The brutal connection left Cesaro with a few busted teeth, which were actually pushed up 3-4mm into his upper jaw and blood was visibly seeping out of his mouth. Like all the others in this list, credit to Cesaro, who soldiered on and went on to deliver a fantastic performance. If that does not make him a worthy World Champion contender, then I don't know what does. He must really be a Swiss Cyborg… sorry, my mistake… Thwith Thyborg, speaking of which, whoever thought of that shirt deserves some sort of medal as that is one of the greatest WWE shirts ever made; the Thwith Thyborg Thetharo. Although Cesaro lost the match as well as parts of his teeth, he was in good spirits and tweeted the following backstage: "Anybody know a good dentist? Issac Yankem DDS? This is not over. Still." I'm not too sure that's the best dentist to go with…